Vacant Property Security Guards and Motorcycle Patrols are fully insured and vetted, are hand picked and have a vast amount of security experience at all levels. Mobile Patrols provide a cost effective alternative to static security guarding and carry out Vacant Property Inspections. Motorcycle Patrols are faster and more effective than a van and are carried out by advanced motorcycle riders. We provide Vacant Property Security in Warrington, Manchester, Liverpool, Merseyside, Cheshire, Greater Manchester, North Wales, North West England, Leeds, Sunderland, Newcastle, Birmingham, Bristol, London, and across the UK.
Ensuring the safety and security of your vacant commercial property is incredibly important, particularly in the case of unwanted visitors such as travellers and squatters. A vacant property can be an easy target for squatters, so it is important to ensure that appropriate safety measures are taken into account. Spartan 24 Hour Security provides a vacant property protection service that ensures the safety of your commercial space 24 hours a day, 7 days a week. We employ a number of proven techniques in order to ensure that your premises is not invaded by travellers or squatters and also provide a clean up service in the event that your property is used by squatters.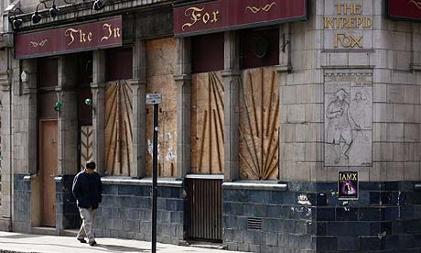 Vacant Property Risks
Vacant property is at risk of burglary and break-in. Burglars will notice that the property is empty, and they will see it as a convenient and easy target. The property is also at risk of criminal vandalism, unauthorised entry, and squatting. As well as ensuring that the perimeter and the entry points of the building are secure, you can utilise other empty property security services to protect your assets. Metal theft, squatting, fly tipping, and even building dilapidation are some of the concerns that can be met by using vacant property specialists.
Vacant Property Manned Guards
A manned guarding service provides you with permanent or semi-permanent guards for your property or location. Security Guards can check identification and ensure that any visitors have the appropriate permission to visit the site. The challenge approach to security will prevent a lot of attempts at unauthorised entry.
Vacant Property Mobile Patrols
Mobile patrols are a more cost effective means of vacant property security. Patrols are typically arranged for times that are considered greater risk, so you would normally have more patrols in the evening and night, but greater security is provided if you arrange for random patrols. Burglars and thieves are unable to predict exactly when the property will be empty, while the guards that visit can look for signs of illegal entry and report them to the emergency services.
Vacant Property Security Guards / Motorcycle Patrols are:
Uniformed
Vetted Security Operatives
Professional, Experienced, Mature

Reliable, Punctual, Polite, Trustworthy
Self Defence trained
First Aid trained
CRB checked
SIA licenced
Able to look after your Vacant Property
Available for holiday or sickness cover
Single shift cover
Long or short term contract