Spartan 24 Hour Security provide professional Security Guards the Warrington area that are fully insured and vetted. Security Guards are hand picked and have a vast amount of security experience at all levels. Security Officers have also worked as Door Supervisors. All of our Security Guards are fully SIA licensed, CRB checked and insured. We vet all of our Guards to BS 7858 2012 Vetting and Screening standard to ensure we employ only the most reliable and trustworthy individuals.
Warrington Security Guards are mature, experienced individuals, with excellent customer service and conflict management skills. SIA licenced, self defence trained, and insured. Able to deal with any situation in a calm and professional manner. We also provide Security Guards in Manchester, Liverpool, and North West England.
All of our Security Guards receive extensive training to ensure they meet the high level of standard we expect from them. Spartan 24 Hour Security understand the importance of keeping your premises and venue safe and secure at all times. Our Warrington Manned Guarding Service is specifically tailored to the needs and requirements of our clients whilst being cost effective.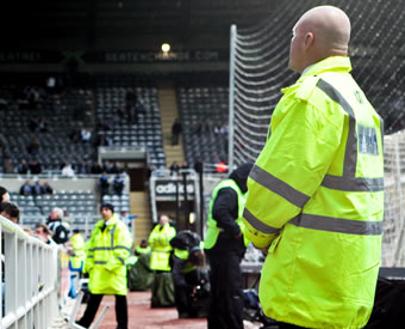 Spartan 24 Hour Security provide unsurpassed, professional SIA licenced Security Guards for the Warrington area. Spartan 24 Hour Security have a broad range of commercial and residential clients, delivering the ultimate in peace of mind, every time. We certainly live up to our name in terms of our service. Everything from our personnel to training is of the absolute highest standard. Plus, we take a pro-active, personal approach to every assignment, which means we'll get to know you and your requirements, and tailor a solution to fit your needs and budget.
Whether you're looking for security guard presence in a public building or construction site security with Manned Guarding, private security, event security, school security, office security, site security, building security or wish to safeguard where you live or work with Residential Patrols and Mobile Security. You can rely on Spartan 24 Hour Security, for confidence, dependability, affordability and true expertise. Covering your security needs in all areas of Warrington, Cheshire, Merseyside and North West England, we have an unrivalled longstanding, North West England security presence in many schools, venues, commercial and residential areas. We also specialise in crowd management security for shows, exhibitions and events.
Copyright Spartan 24 Hour Security 2008